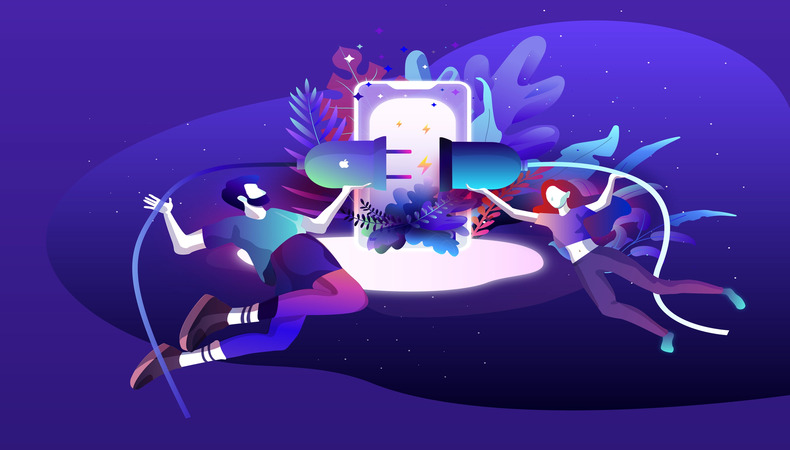 2021 turned out to be a transformation year for buying online, and the number of global digital shoppers increased to 2.14bn. As a result, e-commerce businesses boosted their annual revenue to $4.9trln, and this figure is going to grow further. But to enter the rows of leaders, you need speed. Building a personal e-commerce CRM system may take long months and huge costs. Why won't you make use of API integrations with the existing solutions and save time for driving more sales?
By integrating software systems, such as Linnworks and Shopify, you can automate order processing, reduce costs, and expand business reach. Here, Shopify works as the safe and convenient place to sell your goods, while Linnworks optimizes order management, sends automated reports to email, and improves the cost efficiency of e-commerce operations. All you need is to find a reliable software development partner to cope with the task. But first, read about ecommerce software integrations deeper!
Use cases of Linnworks & Shopify integration revealed
Wish to integrate programs and spend less time on order processing? Or improve the quality of day-to-day operations and cut down costs? Patternica is ready to help you, but first, check the fit for the system integration vs software development.
You definitely need the former if you're planning to execute one of the following tasks:
Migrating from legacy systems to modern software
Legacy systems are notoriously known as out-of-date technology that brings serious challenges to data handling and compatibility with other systems. Inevitably, companies striving for higher data security and accessibility often choose to build different types of software integrations. In the sphere of e-commerce, the integration of Linnworks with Shopify is the most widespread example. It allows tracking stock in real-time, making goods replenishments in a timely fashion, and finally, building trust over your online store's brand.
Merging disparate systems
Do you use a separate tool for managing inventory and generating data reports? That's another case you might be interested in the integration job made by a reputable software development outsourcing partner. In this light, Linnworks & Shopify integration enables you to execute both tasks in one place and customize the point-of-sale system per your business needs.
Increasing functionality
The sad truth is that independent software solutions have limited functional capability, which leads e-commerce businesses to look for a tech merge with third-party services. In other words, by syncing software systems together, organizations achieve an increase in functionality. In the case of connecting Linnworks and Shopify, you optimize order management, data sharing, and operational costs spending.
Are you interested in putting one of these scenarios into practice? Patternica will perform this task for you as we've masterfully done it several times for our clients. Look at our real cases of Linnworks integration with other e-commerce platforms!
What technologies lay under the hood of system integration?
In the majority of cases, Patternica's integration developers leverage the APIs as the means of linking different software into one cohesive entity.
Application programming interfaces (APIs) are the cutting-edge method of connecting two or more systems so that data transmission becomes possible in a standardized format.
In simple terms, it's the method of allowing one software program, such as Linnworks, to request and adopt the services of the other one, like Shopify.
And we, at Patternica, work as the software development mediator between the two, holding the responsibility for creating a unique e-commerce ecosystem for your business. It may include dashboard development, reports automation, behavior script writing, and other integration components depending on your business goals.
Why is Linnworks & Shopify integration important for your business?
To understand the purpose of building the software integration system, first agree that disjointed tools can't share data and work together. So, if you want to unite, manage, and automate the e-commerce operations for better business results, think well about the integrated development environment between the two — Linnworks and Shopify. Go on to find the appropriate scenario that will work right for you!
As a result of this integrated development by Patternica, you'll benefit from:
Using a dashboard.

We can build an actionable dashboard for you to monitor the sales, orders, and traffic channels and modify a marketing strategy based on this visibility.

Managing inventory.

All the tasks starting from the order placement to its fulfillment will become completely exposed, which leaves flexibility to troubleshoot any inaccuracies on the go.

Gaining product & retail reports.

The regular analysis of the online store's performance is the key to success, and the integration of software systems takes analytics to the automated level.

Having all your data synced.

Keeping all the data in order is a significant requirement for making correct business decisions, and the opportunity to access it in one place is a double win.

Reducing costs.

As the time of the data process is shortened and the probability of errors is lowered, you, as an e-commerce company, can avoid costly mistakes.

Gathering seamless user feedback.

Bridging shoppers to your brand is step one, and gaining useful insights on how to make a rapport with them deeper is step two. To handle the latter, see what products are more trendy among your consumers and which are not.

Boosting your business growth.

Thanks to automation, more time can be spent on solving critical business issues, including improving customer experience when using the online store or raising the brand identity in media.
Sounds inspiring? With Patternica, this goal becomes a real outcome as we specialize in bridging software and hardware modules in one place.
Come to Patternica for e-commerce software integration!
Hope you see that system integration between two or more software programs is a more cost-efficient, risk-free, and proven way of expanding e-commerce operations rather than building a customized toolkit or using several of them for different purposes. Thus, instead of reinventing the wheel, consider using the available resources to make your sales ambitions true.
Our API integrations engineers will assist in your way to bringing systems together and ensure they work in harmony. Contact us to discuss the details!
#API integrations
#e-commerce
#product software
#development
#outsourcing
like if it was interesting
6 likes