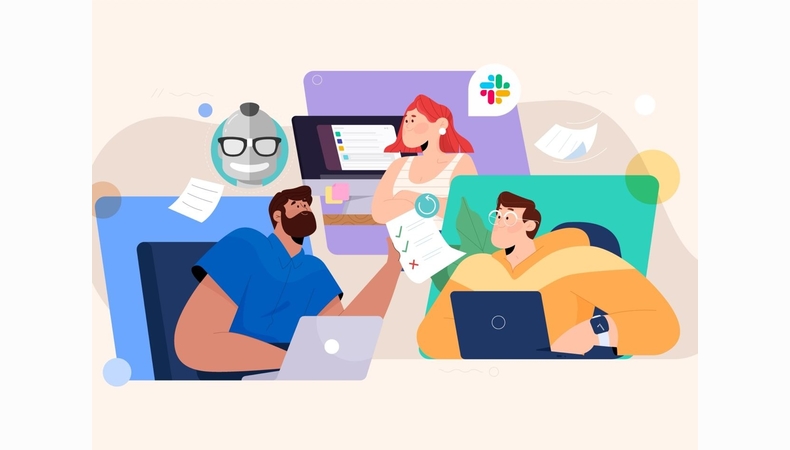 The days of the in-house fintech software developers are already numbered. Both startups and progress-oriented old-timers refer to IT outsourcing as the more flexible, transparent, and agile business model. It's usually associated with a genuine focus on your project, and when it comes to fintech specifics, a dedicated team allows you to cherrypick the high talents with the required set of skills and expertise.
Would you like to brush up on your competitive advantage in the fintech market? In this article, you'll find out how to hire a dedicated development team, so don't hesitate to make a significant change in your business life!
What is a dedicated team in software development?
The dedicated software development team embodies the long-term project-based collaboration between you (the client) and the dedicated staffing (on the provider's side) that results in the IT services outsource. The composition of the team varies on your business needs, but, on average, it includes the following specialists: front-end and back-end engineers, QA and DevOps experts, UX/UI designers, project managers, and business analysts. The team will be assembled per the goal of your project, and that's what makes this business model special.
Interested in how popular it is all over the world? Let's move to the recent Statista findings together!
As you see, Eastern Europe is more or less on the same level of IT outsourcing hubs as the US and Canada are. Western Europe also works hard to catch the leaders' pace. And this should guide you to a closer look at the ​​fintech development team by Patternica as we hire dedicated developers from these promising regions.
Reasons to hire a dedicated team
A precise focus on your project
Choose to hire a dedicated developer or a team of software experts to feel the devotion to your specific project and interest in coming up with the best possible results. This commitment stems from the deep dive into your brand's value proposition, understanding of your business goals, and intelligent management system. In the end, you get what you've expected if your search for a dedicated team was mindful.
A deliberate choice of the best talents
By 2024, the number of developers worldwide is expected to reach 28.7m, but this diversity only complicates finding a suitable candidate for each role. Besides, in the in-house software development business model, you'll experience a limited pool of talents to cope with the new business challenges and market disruptions. Some expertise is necessary only as temporary assistance, making hiring all you need into the office ineffective. But you can substantially decrease your liabilities by hiring the experts you require for this very time and the exact task — enjoy it!
Speed and quality of development
Reduced time-to-market is already more than a dream but a real requirement on the business owner's or investor's part. Thus, preferring the offshore software development team from Ukraine, you benefit from quick and accurate task execution without delays, compromised quality, or unmet requirements.
Flexibility and scalability
After deciding on the composition of the dedicated staffing ashore, your project flow will go smoothly. Plus, you can hire the new team members whenever you need based on your newly appeared business priorities. As you delegate the hiring of the dedicated software development team to a reliable partner, like Patternica, the question of its quick scaling also loses its severity.


Why a dedicated team is the best option in fintech?
Right after the IT industry and healthcare, fintech takes #3 place in the list of the most promising outsourcing sectors. Besides, CB Insights calls 2021 a record year for fintech funding on a global scale. These trends place the position of a fintech developer way higher than ever and demand a reconsideration of their work conditions.
Namely, approximately 60% of interviewees stated that remote work beneficially affected developers' productivity. In this light, choosing a dedicated development team for your fintech project makes even more sense. And if assuming the teammates' joint collaboration in the previous projects, you may be amazed by the smoothness of all processes.
The other arguments in favour of the IT outsourcing include:
No investment in the expensive hard- and software;

Communication convenience;

Transparency of team operation;

Regular updates on tasks status;

An opportunity to move micromanagement to the project manager;

Complete control over the product's delivery.
A dedicated team approach: How your project will go?
As each software development provider modifies the approach a little, so let's see what Patternica offers you as a dedicated team service:
Discovery.

We start with discussing your business mission and goals, agreeing on requirements, and collecting the necessary documentation for further team guidance.

Estimation.

We switch to assessing time and resources to cope with the project and split all the work into sprints.

Team selection.

When the picture becomes clear, we either pick up the available talents for your project or hire the lacking experts to get the work done.

Implementation.

While the team is gathered and ready to start, we move to the 'meat' of the development process per requirements and deadlines.

Testing.

We make sure that all product features work without any errors and bugs and make the necessary corrections if needed.

Release.

It's the final stage where we double-check everything before delivering your product to release.
Tips to hire a dedicated team, or how to do it smartly?
Now when you've grasped the benefits of building your fintech product with a dedicated team, look through our recommendations to succeed in it:
Determine the problem you're going to solve with the product;

Think of your TA and their interest in using your software;

Analyse the competitors' offers in the fintech market;

Define your unique value proposition;

Point out the features you'd like to implement in your product;

Calculate your budget;

Specify the type of team you require for your fintech project;

Find the reliable fintech software provider working on a dedicated team business model.
Contact Patternica and let us hire the custom-tailored software development team for your fintech project!
#fintech
#hiring
#outsourcing
#dedicated team
#developers
like if it was interesting
6 likes