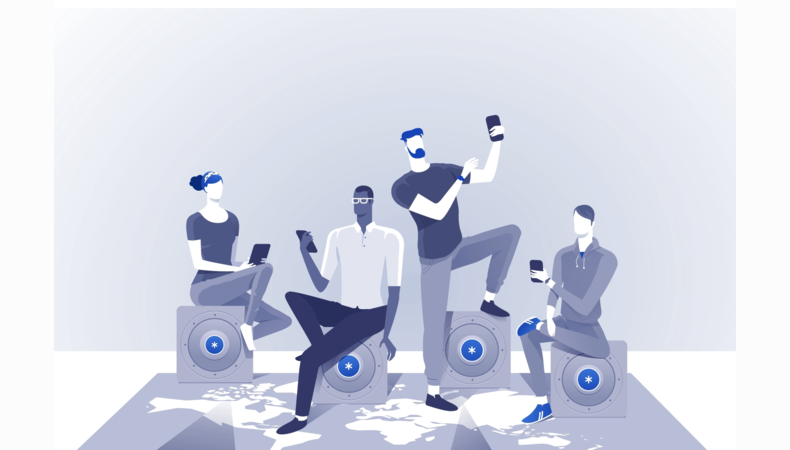 Foreseeing a reaction to a new product is always a challenge. And to raise your chances of building a useful app, choose the MVP approach. By creating a minimum viable product (MVP), you start with developing the product demo with the set of basic features to test by initial users. Then, learning from their feedback and observing the possible inaccuracies, you continue bringing necessary changes, adding all extras, and improving the design. In the end, you've got the complete version of the app that is more likely to resonate with your target audience. Sounds good?
In fintech, the ever-rising disruptions are even more tangible than in any other business industry. In addition to COVID, the Great Resignation, and shifts in customer demands, businesses need to keep pace with the specific fintech trends. This calls for reduced time-to-market, efficient management of resources, and smart decision-making by the development team. In this light, an MVP precludes any waste of time and money as the development process smoothly aligns with the customers' wishes and preferences. Find more about the fintech MVP below to build a startup wisely!
When is MVP a good solution for a fintech startup?
If you're thinking of running a fintech startup, the MVP approach will work well for you in case the product or service has enough value to users and investors. Besides, ensure that it provides visibility on future benefits — both sides should be motivated to continue the journey with you. Finally, the MVP should incite the users' feedback sharing, while its analysis will pave the way to future upgrades. If these three conditions are met, then you see the MVP essence correctly.
Why do you need to create the MVP in fintech?
In 2020, the number of fintech startups increased to 6.5k, which spells a clear message that the ongoing learning during the product development, coming from the MVP, is an excellent means of planning. Based on users' behavior while using the app, you can realize what's wrong and what should be altered to serve their needs better. No analytical tool or questionnaires will do it so well in forecasts. No other technique will save the development team's time and efforts so efficiently. The formula is simple — listen, correct, and meet your customer's expectations.
Where to invest your money? Latest fintech trends
Technologies are the spice that adds taste to your fintech startup dish. Use them to lead your app to greater audience reach and, what's more, living in their lives for long. Here is the list of the latest trends in the fintech industry for you to make your product competitive and unique.
AI and RPA
Process automation is currently at the top of fintech startups' priorities. It is AI technology which masterfully collects and processes high volumes of data and brings you insights to manage the business operations smartly. In its turn, RPA technology adds more to this job: bots improve interaction with customers by raising the reply rate and problem-solving 24/7. Integrate these tools to cut the amount of manual work and delegate more important and creative tasks to the human experts.
Blockchain technology
Security and fraud detection, enhanced by blockchain technology, have also gained the status of trends in fintech. The key reason is haste. As a rule, startups lack time to work on compliance, privacy protection, and security issues, even if being well funded. Can you imagine that 98% of fintech startups aren't resilient to attacks? Don't risk your users' trust and build your app with a proven security strategy in mind.
No code VS low code development
Both development models are a reasonable solution for those who choose the early-seed fintech startups. Simple products, a limited budget, and no liabilities are the perks that attract investors' attention. And the MVP is the result of this choice. Learn more about the difference between two development approaches here to get ideas for your business!
Mobile banking
The major benefits of mobile banking are convenience, bureaucracy reduction, and taking action with a couple of clicks. Due to them, in Europe alone, the active use of mobile banking apps went up to 72% since the pandemic. Moreover, in 2021, the global digital payments market also showed a steady pick — 7.36trln. Hence, mobile banking remains the gold mine, and you can benefit from it too with the interesting value proposition.
Autonomous finance
Now users don't need to go to the bank or take a financial literacy course to start investing. It has become possible with autonomous AI financing: the digital assistant helps them to make savings, invest funds in charity, or cope with stock trading. Find the gap that is underserved and fill it in with your fintech startup!
Big data gathering
Big data still holds its place in fintech industry trends as it's impossible to run a fintech business if you don't leverage the technology that keeps personal user information in order. Plus, quick and qualitative data collection and processing is the key to your app's security. An app is learning to track the unusual patterns in users' activities, which can save you money. Think about how you can use this potential for your project!
Cryptocurrency exchanges
The adoption of blockchain technology leads to the increased popularity of cryptocurrency payments. Despite the regular falls, this market made a new hype in 2021, after Tesla and Mastercard exhibited a strong interest in crypto, and El Salvador coined it as the legal currency for tender payments. And as its use is expected to grow further, the idea of building a competitive cryptocurrency exchange app may turn lucrative.
How can Patternica help with your first MVP?
At Patternica, we've gained a lot of insightful experience in implementing the MVP for fintech projects and coming up with the forthcoming iterations. We suggest starting small and moving to full-cycle product development step by step. With us, you'll gradually guide your product into the hands of the intended audience. Contact us to discuss the partnership!
#dedicated team
#MVP
#fintech
#no-code app
#custom development
like if it was interesting
10 likes