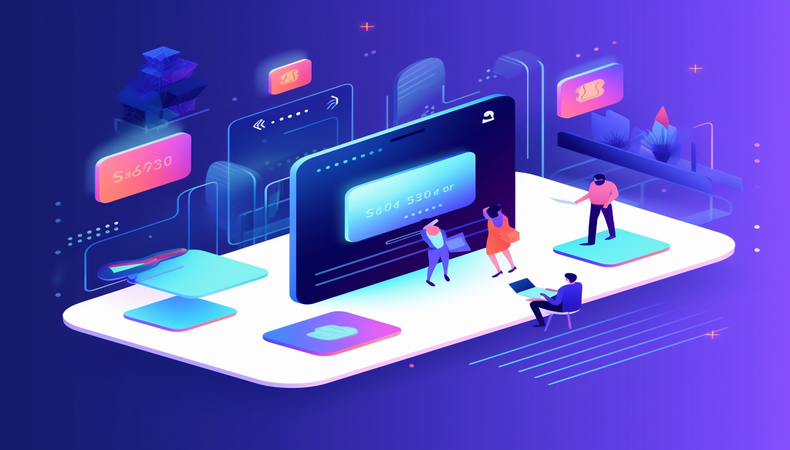 In the time of digital flourishing, delays, errors, and slow manual data processing can become a real hazard to losing a customer on their way to pay for a service or purchase a product. Hence, more and more e-commerce and logistics businesses are considering using B2B payment software as an efficient mediator between two systems (usually an app and a web server). Thanks to payment API gateways, the exchange of information happens more accurately, faster, and safer, which meets the requirement of the day— a seamless checkout for both merchants and consumers.
How popular is online payment integration these days? In 2022, the digital payments market became the largest fintech segment, calling for replacing outdated payment methods (cash, cards, or digital wallets) with payment processing APIs. So, there's no better moment to automate B2B payments than today, and we'll cover it in more detail for you.
Benefits of B2B Payment API integrations
As you might know, API payment integration helps businesses enhance data exchange through protocols used as communication channels between two or more programs. As a result, a user can perform a particular action on the website.
Automation through B2B APIs is power, but what exactly does it bring to you? Read on.
Improved payment processing speed and accuracy
Making a payment integration for a website with the help of API means faster and more accurate digital experiences for users. In other words, your customer won't stumble on the waiting time extensions, which are the most frequent cause of a dropdown and unfinished placing of the order. Also, they'll less likely to face any error while making a payment as all the information is gathered, read, and inputted automatically (instead of manually). Hence, the transaction will run smoothly and quickly.
Enhanced security and fraud prevention measures
Online payment API is also a perfect strategy to take your users' payment security to a new level. In what way? Usually, payment APIs include anti-fraud features, such as encryption and tokenization. In plain terms, it implies that the data is circulating through secure connections and is accessible only to authorized users. In its turn, this careful approach lowers the possibility of data leakage to a great extent.
Flexibility and better user experience
Suppose your customers' zest for security is already realized. In that case, you may now think of flexibility and an overall level of service. By using API for payment, you inevitably make a step forward toward these two goals, too. First, let's say, you offer users to make purchases with various payment options and free them from entering credit card details every time (thanks to automation). Second, they pay you off with increased sales and referral recommendations.
What payment API integration options can Patternica offer you?
We're ready to help you integrate payment API into a website and provide complete technical support. But in case you need to choose a third-party payment API first, check the list of leaders in the market below.
Braintree
You've probably heard about this Chicago-based company bought by PayPal in 2013. Their primary target is e-commerce companies seeking the opportunity to safely accept and process web and mobile payments. Braintree's payment gateway does just that, giving a free trial, multicurrency support, 24/7 customer support, and fraud detection functionality. The clear-cut UX, absence of hidden fees, and simple checkout are the things that made its name among businesses of all sizes.
Stax
It's another American B2B payment gateway provider that serves small and midsize organizations that aim to facilitate accounting. Founded in 2014, the company still keeps its place in the fintech market, cutting down credit card processing fees and improving invoicing. Moreover, with Stax, you'll pay only for the features your business needs, such as elaborate dashboards or a dedicated accountant's help.
Stripe
Despite its American-Irish roots, this payment processing partner is much talked about worldwide. Its popularity is due to a vast selection of APIs and a focus on in-person payments through terminals. Altogether, this perfect blend gives much flexibility in customizing a payment gateway per your business needs.
Square
Compared to Stripe, Square offers lower transaction costs and a more convenient tool for processing payrolls—a small adapter plugged into a device. With this payment gateway solution, your business gets automation in creating invoices, accessing analytical reports, and managing inventory. Besides, Square's strength is its functionality for building customer relationships, which will help you turn your customers into loyal ones.
Helcim
This brand acquired its reputation thanks to low-cost transactions and an automatic rewards program—the more transactions you process, the fewer fees you pay. So, if this discount system aligns with your business specifics, don't waste your time and choose Helcim. In addition, you'll get POS software, a virtual terminal, invoicing, and other helpful perks for free. The variety of APIs will also surprise you, leaving enough space for adjusting the payment gateway to your business requirements.
Merchant One
If your plan is to sell globally and migrate to a payment portal with no hustle or a tiresome approval procedure, Merchant One is what you need. This payment processing solution is suitable for small businesses who don't want to wait long (application within 24h), aspire to ensure the clarity and safety of transactions, and are OK with the 24/7 phone-only support.
Payment Depot
Do you remember Stax, #2, on our list? Payment Depot is currently acquired by Stax. However, it functions as a separate payment gateway solution accessible with a monthly subscription— from $59 to $99. Compared to Stax, Payment Depot is better for small businesses with large sales volumes. It can be easily integrated with Shopify, BigCommerce, WooCommerce, and other shopping cart platforms. No contracts, a good support service, and absent interchange markup are the key arguments in its favor.
Choose the right B2B Payment API integration for your business
The selected API online payment technology will affect the speed of transactions, cost and safety characteristics, user convenience, the range of features available, and customization potential. All that, in their turn, will imprint on your sales, user satisfaction, and loyalty. Patternica will help you make this tricky choice critically and professionally implement the technical side of B2B payment API integrations. Let's discuss how we can help you grow!
#B2B
#payment API
#payment gateway
#banking app
#payments
#payment integration
#API integrations
#fintech
#payment processing
like if it was interesting
3 likes