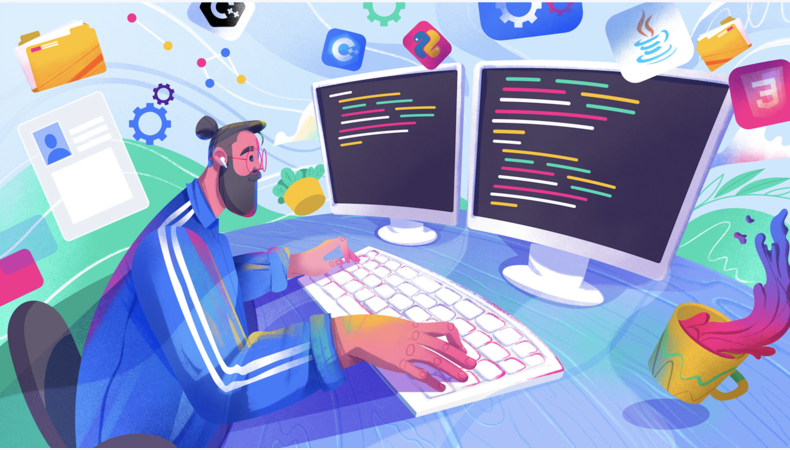 Are you surprised with the gradual growth of low-code and no-code applications? According to Forbes, they're expected to reach 65% of the market size by 2024. And are you taking their replacement of custom solutions in software seriously? No way! Though no-code development works well for creating simple websites with minimum budget and programming skills, it sounds reasonable only for the initial stage of development. Thus, if you're going to attract users to your product with a unique offer, custom software development is the only path to choose.
That also explains why the number of custom developers is going up within the last decade: the U.S. Bureau of Labor Statistics confirms this trend, predicting a 22% growth in employment of software developers from 2020 to 2030. In turn, 29% of specialists who build the custom software work on improving their coding skills through open-source. Would it be so if custom development of software wasn't in high demand?
What is custom software development?
In short, by developing custom software, you've got maximum flexibility in changing the product on the go. As a dedicated team working on your project isn't limited in the number of corrections and updates, there's a higher probability of creating the app that will meet the specific business goals and users' needs.
Besides, custom software product development allows organising the whole process into a smooth workflow and adjusting it per the client's request. By keeping you on track of the project's progress and implementing all the changes in the transparent mode, Patternica provides a custom software programming service that corresponds to your business strategy and users' expectations.
What are the benefits of custom application development?
Unique product design
It's hard to satisfy the ever-rising customer's needs with the design templates their eyes have got used to. That's why to develop custom software is a justified approach to stand apart from the rest of the niche's competitors with an attractive and user-friendly interface.
Wide range of functionality
Besides the easy and convenient adding of new features within the product, software custom development also gives qualified coders much freedom to modify functions, formulas, and systems. This ensures your product stays in line with the industry fluctuations and customer requirements.
Security compliance
Preferring the custom software developed by a reliable provider, such as Patternica, you release headaches and concerns over security. The hand-written code is proven to stay more fraud-resistant than the low- or no-code software as you can trace all the quirks and address them in a short time.
Efficient integrations
Any time you'd like to implement some changes in the no-code software, integration issues will arise. To save time and protect the quality of functionality, better refer to the custom software development company from the start.
Stable maintenance
Customized software applications are easier to maintain and upgrade, which turns your initial investment into a long-lasting perk. Don't restrain your budget when high quality and lack of financial risks are at stake!
What are the disadvantages of custom application development?
To be objective, let's look at the possible hardships you can face with custom solutions in development.
High price
In contrast to no-code development, the cost of custom developed application bites. Nevertheless, remember what you're paying for and check your business goals. Will you prefer paying now instead of solving plenty of troubles further?
Challenge to hire developers
Though it's often hard to find the software developers with the specific expertise, Patternica is here to withdraw this burden off your shoulders by hiring a team of professionals for your project. Get acquainted with our approach here and forget about this drawback right away!
What is no-code application development?
No-code application development is the technology that allows building quick and simple solutions without programmers or with their minimum involvement. It suits those who have no time and resources to plunge into the long-term development process or need a quick test of the functionality.
Can I make software without coding, and what are the pros?
The short answer is yes. You rely on the chosen platform to drag and drop the necessary components into your future app. In the end, you obtain the quick MVP and see how the idea works. In most cases, your decision to favour no-code app development stems from these reasons.
No coding skills required
This type of development is open to everyone, which stirs much interest in building a startup with your efforts and basic/no programming knowledge behind it.
Costs reduction
If you've got a fixed budget and no outside investment, no-code application development is what you need to omit the stage of hiring the expensive professionals and being tied by liabilities.
Time saving
In addition to money, you also reduce time on development as the no-code technology is a smart tool to get the simple app quickly with pre-built modules and cloud automation.
What are the cons of no-code application development?
If you need to build something simple and on short notice, nothing will disappoint you much in no-code app development. However, if you aim for more, read on the following minuses.
Dependence on the platform
Market, industry, and customer expectations are in flux, and the reliance on a particular platform to build an app means being attached to obsolete design and functions. Moreover, code migration will be tiresome if you dare do it one day.
Complicated scalability
Scarce flexibility is equated to scarce scalability. As a result, you've got the choice of either going on with the limited app functionality or changing your business model to the custom software product development.
Nothing special at all
Typical templates and capabilities are no longer interested to the most modern users. Thus, no-code apps aren't about the quality of development or the product's competitive might.
When to use custom development VS no-code tools?
Both options serve their purposes. Custom software development is the perfect fit for unique and mission-critical apps with big scale and high data security, while no-code application development will keep you afloat with launching a startup at an early stage or automating internal business processes. So, if you pursue a high goal, refer to the custom software business. And if you need to quickly create a simple website or an app per template, use the no-code platform.
Contact Patternica, and we'll assist you in your custom software development journey with gusto!
#no-code app
#development
#product software
#custom app
#custom development
like if it was interesting
9 likes