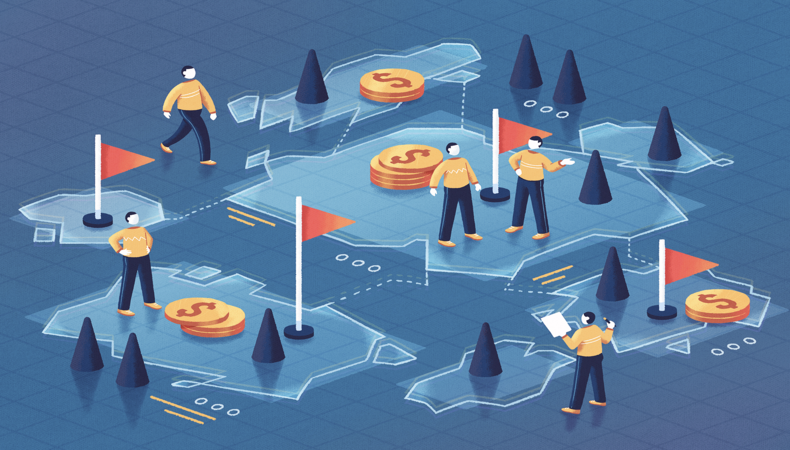 First things first, let's come clear why companies offshore. In 2019 solely, over $92bn was invested in software development by third parties, and this tendency is evolving further on. But why does it happen so widely? The primary reasons to go offshore are cost reduction, faster time-to-market, quality and security of the developed solution, and effective risk management through hiring professionals.
Second, which is an example of offshoring? The companies who offshore their operations to other countries and delegate some part of their tasks to the chosen IT provider can ask for different services, such as:
Developing the product from scratch

Upgrading it according to the latest technologies

Integrating it with other services

Adding some functionalities (i.e.,

customer support from an Indian IT enterprise for Ford

or

the Philippines' offshore talent for Amazon

)

Expanding the actual team (i.e.,

IBM India Private Limited subsidiary

)

Providing expertise for the business scalability (i.e.,

General Electrics R&D centre in Bangalore

).
All this depends on the purpose, but generally the companies offshore their business processes to a reliable IT company to come up with a valuable high-quality product that will conquer the market. Get to know how to do it smartly in our new article!
How do you get that your offshore IT partner does things right?
Well, while looking for an offshore partner, you need to evaluate certain aspects that build up their reputation and evoke your trust. Though there are a number of things the chosen IT development partner should be good at, here we'll focus on the major ones that make offshore ties a good decision.
1. Focus on the way their QMS is built
Under a QMS, we mean a quality management system, or the formal set of procedures, reviews, and process organization standards that make up their business operations. The more detailed and neat they're, the better. Thus, you can ask your potential partner for offshore IT support to provide the SOPs (standard operating procedures), Templates, or Guidelines that regulate the project's development.
By seeing them clearly documented, you can predict that your project will be in good hands, your product will be delivered in good quality, and your customers will be satisfied with it. Controversially, if the partner can't provide such clarity through a QMS, how can they plan to coordinate the project and accomplish it per your expectations? Check it slowly from the outset.
2. Ask how they cope with security concerns
QMS is one thing, but compliance is another. We logically come from quality assurance to legal requirements, such as ISO standards, GDPR policies, EU regulations, etc. It's the gist of the security question, and many businesses realize the importance of investing in software security.
By 2023, this figure is expected to reach over $16bn. Hence, it's significant that your offshore partner has a crystal-clear plan and checks the product's compliance at each stage of development. But the thing is, you can control the turn of events. Sign the well-thought SLA (service-level agreement) with your offshore IT provider.
3. Check their approach to testing
If the IT company saves time on bug fixing and proper product testing, it's already a red flag that you shouldn't delegate your tech-related tasks to them at all. Though many underestimate the role of testing, we believe that automation testing is the guarantee that your app won't crash or bitterly fail after the release.
In the case of Patternica, we devote much time and attention to analytics, automation tests, regular reviews, and integration of testing and development (simultaneous processes). So, if you're concerned about predictable project delivery, ask the offshore partner about their test strategy and the metrics they use to check on code quality.
4. Learn more about their expertise and methodology
As that's the final component of the puzzle that predetermines the fate of your project, take your time to examine it properly. Start with the checklist here:
Evaluate the match of their skill sets & experience and your project needs

Ask for certifications and clients' reviews

Read their case studies

Check their blog and social media

Make sure they work on the Agile software development methodology as it's synonymous with flexibility, scalability, and result-driven planning.
All these steps will make your project go in the right direction and turn into a high-quality product. Be critical of what you see and hear and assess the correlation with your business goals.
How can I manage the offshore dev team smartly?
If you're surprised that you'll need to call the shots, read our article explaining the difference between outsourcing and offshoring. Apparently, you'll be involved in offshore team management, and to do it more effectively, catch our tips:
1. Select the partner wisely. We've devoted the previous section to this aspect, but repetition is necessary as if the team doesn't match your project requirements, it's already not about management.
2. Always be on guard. It's not about hyper-control and lack of trust in the partner's expertise. It's about your awareness of how your offshore development teams are functioning and what pains they have. In this case, you'll be able to effectively guide them.
3. Be specific. Your expectations should be clearly expressed to get a definite result. Be cooperative, speak your mind, and share your feedback on a regular basis. That will make the task of managing offshore teams doable.
4. Consider time zones. If you're far apart, you're likely to be working with offshore teams according to the schedule agreement. By this, we mean defining the concrete hours you're both available to talk and help each other.
5. Promote the atmosphere of welcomed sharing. That might relate to various questions, such as app architecture, tech solutions, or non-tech issues. You hire them for expertise, so trust their qualifications.
Empower your business with our offshore development service
If you're reading this piece, you're probably seriously thinking about offshore business processing and the value it can bring to you. Patternica is providing IT business offshoring for 5+ years, and we've got the smooth software development approach we rely on. Check our technologies and contact us for more information!
#offshore IT
#development
#offshore development
#companies who offshore
#offshore
#business partners
#Agile development
#tech partner
#automation testing
#it
like if it was interesting
6 likes