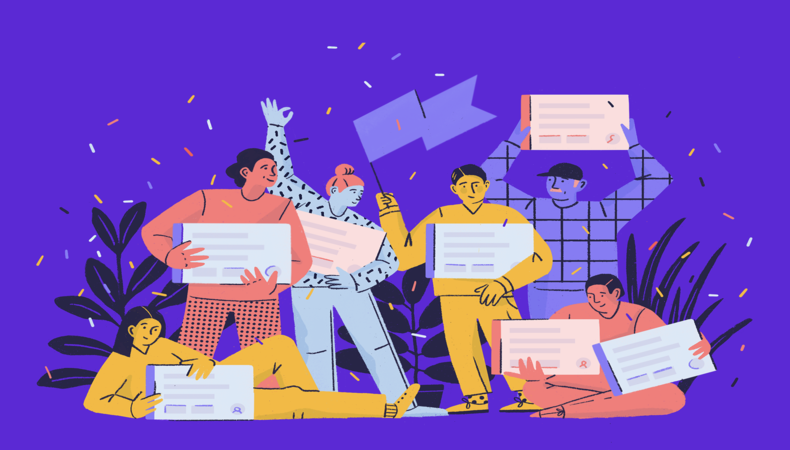 Do you feel that your in-house software team doesn't cope with clients' requests to the full because of lacking hands? Or maybe you consider your business successful locally and are eager to know how to scale a product to new markets? In both cases, you need more brains and hands, which means you need to scale a team.
The task of scaling engineering isn't limited to hiring more staff. That's a long and complicated process that requires hiring talent, experience in building a software development team, and a deep understanding of the product creation life cycle. Hence, not to stuff the bumps yourself, it's better to deliver this job to professionals who are good at assembling, expanding, and managing development teams.
Patternica is one of those rare occasions, and we'd like to share our approach to faster software building. Read how to equip your in-house dev team with our high talents and achieve better results!
Сases to scale your software development team
Have you heard that 64% of IT leaders already leverage the power of outsourcing for scaling engineering teams and faster software development? The pandemic has also added to this trend's rise, and many business owners confirm the cost reduction, easier access to relevant knowledge and experience, and stable IT support as the key reasons to prefer external specialists to join their in-house team for the project duration.
However, the motivation can differ. Check your company's fit for scaling the software dev team first!
You don't have time and people to start a recruitment campaign as all your focus is on coping with the ongoing tasks;

You experience difficulties in hiring strong tech talents for your project —

63% of recruiters

face this challenge;

You admit that your current team underperforms while the workload is going high;

You've got plans on big tech upgrades, and you desperately need more technically skilled specialists to handle the task;

Your product is already developed, but you clearly see the further development path (i.e. to create the supporting products, enhance UX & UI, or increase the app performance) and need the best narrow experts in this field;

You'd like to outsource routine tasks to buy some time for business development tasks and deliver the leading software development team to the PM (Project Manager) on the vendor's part.

You feel that your current product performs quite well, but there are still some areas for its growth, and you need to hire the relevant experts to fill in the skills gaps.
Have you found your present situation described in this list? If yes, please, grasp some motivation before you get ready to scale a tech team!
Benefits of scaling your software development team
It drives your market expansion
If you decide to scale software development by attracting outsource specialists to your existing team, you'll open the way to product evolution and its global spreading. With more advanced engineers on the board, you'll keep your finger on the pulse and serve your users in the best possible way.
It results in a better user experience
By hiring devoted and skilled specialists, your solution will be timely adjusted, stuffed with new features, and optimized in performance. Consequently, this will set a high bar for competition and will evoke trust in your brand.
It helps manage bottlenecks
The scale of development also positively influences the system's capacity to provide even workload distribution and safeguard the uninterrupted app functioning. If everything runs like clockwork, fewer bottlenecks, latencies, and system crashes can occur on the go.
It minimizes costly mistakes and saves money
Managing a software development team after its expansion is another challenge. Not to pay for redundancy or idle resources, you need to select a reliable IT services provider who will supply you with a decent addition to your team.
Ready for a start? Switch to our tips on how to manage a software development team under scaling conditions!
How to prepare for the tech team scaling properly?
Imagine that you've already defined your scaling goals for a software development team and are ready to move further. So what should we advise you to do next?
Start with the vendors' list.

These are the promising outsourcing companies that have developers and dedicated teams as their staff members. Patternica belongs to this list, contributing to the growth of other businesses as no one can achieve by themselves. Read the reviews on Clutch or GoodFirms, examine the portfolio, and check their tech expertise. Once the list of vendors is narrowed, go to the next step.

Determine the team size and write job requirements.

Ideally, the software teams should be made of no more than 7-10 people. This composition will ensure smooth workflow and sprint task realization. Also, you should clarify the job expectations for each tech role, which will be further translated into the vacancy descriptions.

Plunge into the interviewing process.

Everything depends on the scale and speed of your business growth. If you need to expand your existing tech team by hiring 100 new engineers, you'll probably need several vendors. However, when your plans aren't so ambitious, and you need several people to equip your team, one reliable provider, like Patternica, can do the whole job for you.

Choose a trustworthy partner.

Make sure that the chosen vendor empowers your team with the required domain experience, tech expertise,

agile methodology

, and skills. Ask all the questions that bother you and request the proofs in the form of similar cases closed.

Enjoy the benefits of team scaling!

You're already aware of what they are, now you can feel them.
Come to Patternica to scale a dev team error-free!
Is faster growth an expected result you're going to see at the end of the product development life cycle? Being a vendor providing the required IT specialists to companies seeking scalability, Patternica has experience in growing the company's team by four times in a year — from 50 to 200 employers.
And now we're ready to make it work for your project as well, landing helping hands to stir your product's broader reach. Contact us to discuss the partnership details!
#hiring
#product software
#techteam
#scalingteam
#custom development
#softwareteam
like if it was interesting
7 likes