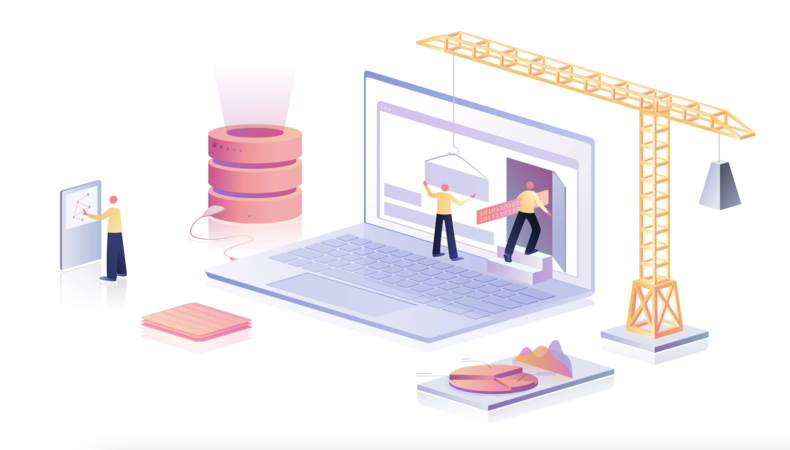 The ever-raising customers' demand gives rise to new businesses joining the global market. They enter the scene with the expectation to serve the underserved, fill in the needs gap, or present a better solution. To make their appearance timely and meaningful, new players need to develop custom software that satisfies their specific business goals and guarantees a stable solution for users.
In 2021, the customized software applications market generated $141.4bn of revenue, a sharp jump after COVID-19. By 2027, these numbers are expected to increase to $217bn, which proves the worldwide popularity of custom software product development services. But the variety of global vendors complicates the choice of a reliable provider, and this article will guide you on how to do it smartly. Full steam ahead!
What is a custom software development provider?
Before a deep dive, let's remind you of what is meant by a custom software building company. In plain terms, it's the IT development company that switches from low- or no-code development to unique software products development, making the focus on more complicated solutions, care of client's business needs, and usage of modern technologies.
Patternica meets this description and provides its clients with a wide range of custom software applications in fintech, e-commerce, and logistics. The examples of custom software developed by us include the online identification service, the payment integrations, the transport company website, and a lot more. So, with a custom software applications development provider, like us, you can develop a tailored solution for your business.
Key markers of the best custom software development company


Deep domain expertise
While you come up with the end goal, what should be delivered to you and your TA as the final product, the custom software vendor should meet you with professional consulting on how to build it: on which technology, what team and how much time are needed, and how to make it high-quality, secure, and stable.
Advanced methodology
If the company's custom software development process is based on Scrum or Agile approaches, this is already a good sign. It means they guarantee flexibility in making changes to the product and solving unforeseen challenges on the go. If they add DevOps to their development practices, it should hint you on reduced time-to-market and high code quality. Take a look at the programming languages they're qualified in (JavaScript is still the leader in the 2022's market) and frameworks they use (.NET and Numby are the most trendy). If the company applies the latest technologies, that's the reason for examining it closer.
High technical talents
Both customized software application development and custom web software development call for the team's high technical expertise. However, the client's request can also require a vendor to hire a developer with a lacking skillset for the project. Hence, the ability to cope with this task is another distinguishing mark of a reliable IT services provider.
How to choose a reliable custom software application development provider?
If you've already got the business idea of what software to create, this step-by-step guide will help you hire a software development company per your expectations.
1. Start with Google Search or use Clutch. The former gives you the quickly generated list of providers based on your keywords, while the latter sorts it out with filters. Narrow your search by indicating the size of the company, preferable location, average cost per hour, industry specifics, etc.
2. Make the top-5 selection and go on an exploration. After finding the most fitting companies, check each one more thoroughly by walking through their official sites. Look through their services, about us, and partners pages to make the initial impression.
3. Compare what they and others tell about the service. Examine the case studies/portfolio section at the official site. Then get to know their clients' feedback outside the site. If necessary, you may also write to their customers directly and request short feedback on the project realization. Check if the stories coincide.
4. Test their expertise during the interview. Prepare questions to understand how the software is developed in the company you're interested in. Ask them to talk numbers: how many users the solution attracted after the release, what revenue it brought to the client, or what sales increase it caused. Facts are always louder than promises.
5. Make the final decision. If you feel that the provider has relevant expertise, convincing cases of similar custom development projects, and affordable price, you're the lucky one who has found the match. Congratulations!
Questions to ask before the partnership
Are you preparing for the interview with the custom software development company? Take this list of questions with you!
1. Do you normally start with the discovery phase? (understanding of business requirements)
2. How often will you send me updates on the team's progress? (transparency)
2. Which technology stack do you consider suitable for building the solution for my project? (novelty of technologies)
3. Do you have experts with X specialization in the existing team? (technical match + time for realization)
4. Do you provide after-development support services? (range of services and ease of further maintenance)
5. What is the company's development methodology? (smoothness of workflow)
6. How do you ensure the protection of users' sensitive data? And which practices do you use to secure the solution? (safety)
7. What is the structure of your software team? How will it be adjusted to my project's needs? (planning + flexibility)
8. What communication practices do you rely on? (organization skill)
9. What is the estimated timeline and prices for my project realization? (expectations test)
10. How often are you asked to redevelop the project? (meeting customer's needs)
11. Have you ever exceeded the client's budget? And for what reasons? (compliance)
12. Have you ever postponed the client's product delivery deadlines? And for what reasons? (compliance and planning)
You may also expand or shorten this list based on your project specifics. Good luck with your search!
Plunge into developing custom software with Patternica!
We're an IT company that builds custom software with profound domain expertise, advanced methodology, and rich technical background. You'll be surprised by the process transparency, smooth communication, and quality of the solution. Contact us to develop the custom-tailored solution for your business goals and users' needs!
#product software
#hiring
#development
#custom app
#custom development
like if it was interesting
9 likes