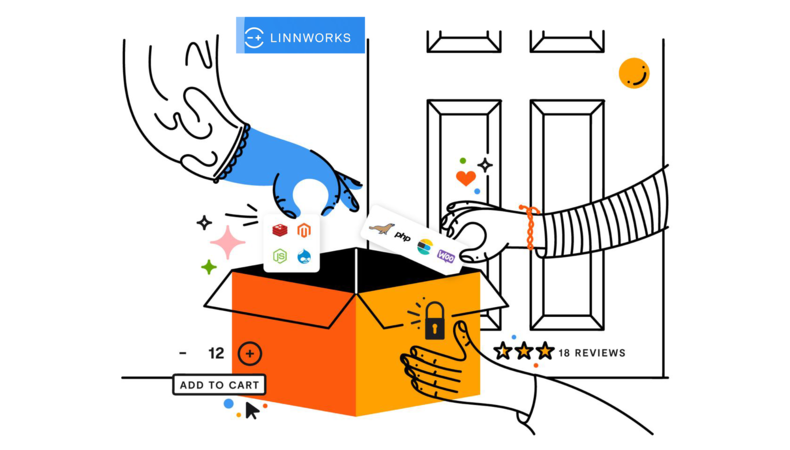 Today it's popular to unite services or products of two or more companies under one hood. It's called an integration, and it's done to automate business processes and bring more value to customers. One company strengthens its business growth with a trusted third party. In turn, the helping side - the vendor - is also interested in this blending, acquiring personal gain from it. That's the essence of integration between your selling website and the e-commerce platform. But how to select a reliable partner for your e-commerce business growth? Read on further in our article!
Checklist on selecting an e-commerce partner
As it isn't an easy job to do, we, at Patternica, can share the friendly guidelines that proved effective for us. Start with these three steps to leverage the power of integration for your profit!
Step 1. Check the ease of customisation
Each e-commerce provider offers a unique architecture, which defines the way the upgrades and customizations are implemented. The simpler the procedure, the lesser trouble on the user's side to customise the application per the specific business needs.
Step 2. Evaluate the convenience of data access
The key hint here is you should be able to access data from anywhere — no matter what type of networked device you use. It's no less important to have a user-friendly dashboard where all this data moves.
Step 3. Make sure the architecture is multitenant
A clear marker of a good e-commerce platform is the simultaneous support of all users in sharing the common code base and infrastructure. That is essential for quicker innovation and reducing time on integrated development.
What does Linnworks do in terms of integrations?
Linnworks is the e-commerce control platform that helps businesses seamlessly connect all the data in one place and hold focused control over their sales processes. With this visibility, you can improve your selling statistics by using the most promising revenue opportunities and mitigating risks on the go. Why is so much hype over it? Convenience, speed of realization, transparency of processes, smart decisions, and saved time for business growth.
Why is Linnworks a reliable e-commerce provider?
Before a deep dive, please, answer three questions. First, is your business connected to online selling? Second, do Amazon, eBay, or Shopify ring a bell to you? Third, is it a challenge for you to cope with the integration of data in one place? If you get 'yes' to these questions, Linnworks is a perfect fit!
Why exactly Linnworks?
Ready-made channel mapping solution

. You'll get access to all the orders from various sales channels and your website with one platform.

Simple and quick order management.

With Linnworks, your users will be able to both facilitate and speed up the flow of e-commerce processes.

Efficient for data extraction.

You can efficiently handle the massive volumes of data and import it to a single space, including inventory items, invoice templates, etc.

Supportive of automation.

All the new orders and relevant sales information will be automatically added to the system, with no human manual intervention and fewer errors.

Suitable for all sizes of businesses.

Various brands and retailers can benefit from Linnworks as it works well for all — small, medium, and large enterprises.

Open API integrations.

The platform invites you to use API technology and integrate it into your unique e-commerce ecosystem.
With Linnworks, nothing will distract you from the most important task you've got — business growth. Automating e-commerce processes means power, so let's see how to scale your selling further!
Other benefits you get from a partnership with Linnnworks
Among the additional perks provided by this e-commerce automation platform, pay attention to:
Certification and training.

It's truly an advantage for those who value hands-on learning experience on how to get more from the platform.

Product updates.

The good news is that you'll have first-hand product updates whenever they're ready for use.

Co-marketing option.

Linnworks suggests the joint involvement in marketing campaigns as a privilege to their partners.

Commissions structure.

Being a partner with Linnworks implies getting a commission for deals and referrals.

International business impact

. Selling, scaling, and adapting are all possible on a global scale, no matter where your business resides.
All these benefits are at your disposal, whether you're a marketplace, an e-commerce platform, a carrier, a shipping service, or a third-party logistics centre. Linnworks is an e-commerce SaaS platform that helps different types of clients to personalise the customer experience.
Principles of partnership: Linnworks and Patternica
If you think about the system integration, Linnworks and Patternica will set a splendid example through their partnership. While Linnworks is great at solving the riddle of how to integrate programs within one system, Patternica serves as the software development outsourcing partner that copes with building:
Custom behaviour scripts using C# and .NET Core (Macros development);

Linnworks Reports;

Integrations between Linnworks and other systems;

Linnworks Dashboards development.
As e-commerce is at the top of Patternica's industry priorities, we're well-experienced in on-demand software development, and that's where our interest crosses with Linnworks. Our part of the job is to bring you flexibility through customising the e-commerce dashboard and its functionality to the specific business needs. As a result, you'll get the custom-tailored e-commerce solution.
Would like to see some examples? Check it out!
Modexpress
One of our partnership fruits is the channel integration between Linnwork and Modexpress. Our dedicated team learned the completely new API specs to deliver integration in 3 months. As a result, using Linnworks, the client can successfully fulfil orders of fashion and lifestyle products on a global scale.
Vend
Another instance of Patternica & Linnworks cooperations is Vend, which embodies the channel integration between the big retail player and Linnworks. Our integration delivery took 2 months, and this contribution helped the client successfully deal with order management and minimize time on operations.
InstaDispatch
Instadispatch is an example of shipment integration built by Patternica for Linnworks. This time we managed the task of API learning and integration delivery even quicker — in 3 weeks. Thanks to it, a global cloud-based courier management solution is now even more confident in product shipment.
Contact Patternica if these cases sound compelling to you. With us, you won't be lost in the wilds of e-commerce integrations!
#e-commerce
#dedicated team
#custom development
#API integrations
#outsourcing
like if it was interesting
13 likes